iPhone Eye-Level Camera Adapter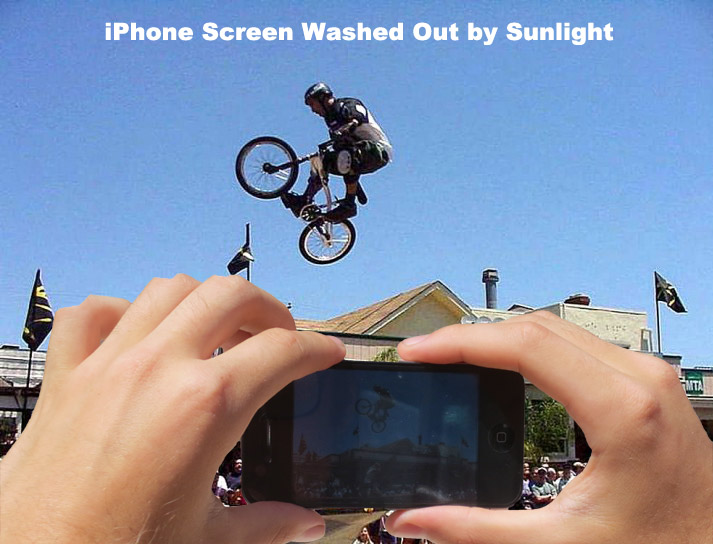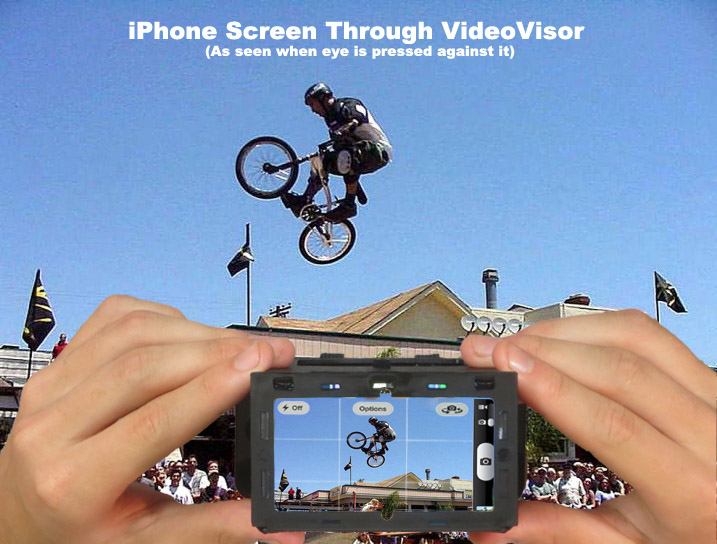 Pictures are simulations of sunlit flat screen vs Magnified VideoVisor snap-in hooded screen.
Available to Order: Here
Works with Touchscreen iPhones, as well as non touch-screen point and shoot cameras.
ALL FLAT SCREEN camera devices, like iPhones©, Camcorders with side mounted screens and Pocket Point&Shoot cameras -- are viewed on their flat unshaded screens, which allow images to be washed out by the sun. And they are virtually impossible to hold steady for tracking moving subjects like people, kids, and sports.
"Normal" human eyes need a viewing distance of about 14 inches for comfortable focusing, which means that these washed out images on small (less than four inch) screens, held far-from your eyes, usually with ONE HAND, make viewing, framing and composing, like squinting through a blindfold in a London fog.
But more importantly, since virtually ALL users, young and old, strain their eyes to read these small images – they force their eyes to focus on these too small, too near images. According to professional optical studies, this can cause PERMANENT Near Sightedness in your eyes by viewing small screens from too close a distance.
The Margolin "iPhone© Eye-level Universal Camera Adapter"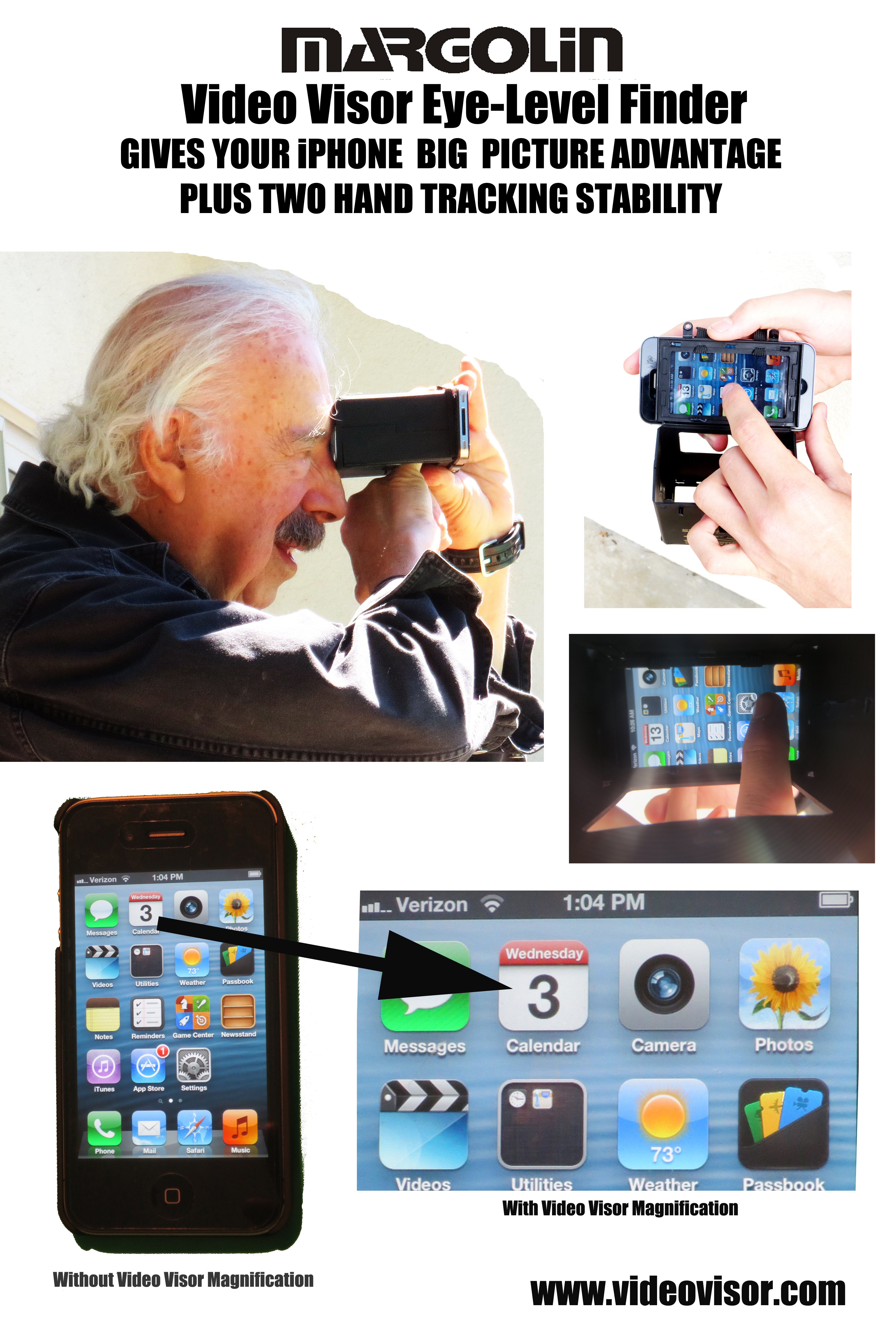 <![if !supportLists]>1. <![endif]>TOUCH SCREEN CAPABLE
<![if !supportLists]>2. <![endif]>Flat Foldable
<![if !supportLists]>3. <![endif]> "Shirt pocket Portable"
<![if !supportLists]>4. <![endif]>Feather weight 1.6 oz
<![if !supportLists]>5. <![endif]>Provides a close-up magnified view of the small screen
<![if !supportLists]>6. <![endif]>Has an integral flip-in/flip-out flat Fresnel lens which folds out of the way when not needed, and flips INSTANTLY in front of the eye for composing, viewing and tracking.
<![if !supportLists]>7. <![endif]>Injection molded with living hinges is a one piece UNIVERSAL device which fits ALL the current iPhones© and millions of camcorders with flip-out flat viewfinders as well as other millions of small "point&shoot" cameras.
<![if !supportLists]>8. <![endif]>The Margolin "iPhone©Universal Eye-level Camera Adapter" is a sunshade – AND an Instant On/Off "Eye-Level MAGNIFYING Viewfinder."
<![if !supportLists]>9. <![endif]>Makes for steady, shake-free shooting and tracking, because it's constructed and injection molded for strong, two hand stabilizing, eye-level support.
Available to Order: Here
Margolin Development,LLC
949-645-5950 (M-F 8-5 PST)